Free Webinar
June 2, 2020 @ 11AM EDT | 10AM CDT | 9AM MDT | 8AM PDT
A Must-Attend for Legal Professionals
The average cost of a data breach in the United States stood at a staggering $8.2 Million, in 2019.
With mounting legislation like breach notification and consumer privacy protection laws, your law firm cannot afford to navigate without a security compliance compass.

In this webinar you will learn:
Assess your current risk
Identify the biggest threats to security and compliance
Develop a plan of action
Redesign your processes to reduce liability
Measure and adjust your performance
Learn from industry experts where hidden security vulnerabilities lie, how to identify and track them, and how to resolve them to ensure your firm and your client aren't exposed to costly breaches.
Our experts will guide you through a plan to track and reduce exposure, and teach you how to ensure your law firm stays on top of its game, when it comes to security compliance.
About the presenter
Thomas Baker - Sr. Industry Specialist, Canon USA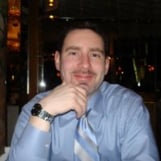 Bringing over 20 years' experience as a technology solutions consultant and project manager, Thomas's primary focus is delivering comprehensive solutions to AMLaw 200 law firms and Financial Institutions.
Working closely with numerous AmLaw 200 law firms has given Thomas a unique perspective on the needs, expectations and realities law firms face when adopting new technologies.
Thomas has been the principal project manager responsible for over 40 major client engagement technology projects and a project contributor on over 300 projects and solution engagements, including international efforts and AmLaw 200 firms.